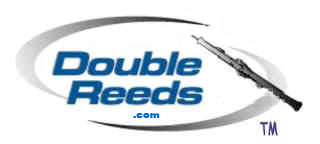 Our Big News:
Double Reeds
Is Now a Division of Chartier Reeds


P.O. Box 31001
Albuquerque, NM 87190
1- 800-729-7333
Fax: 505-888-1064
From The Double Reed Workshop

Our profiled oboe cane is graded into 12 strengths ranging from 1 (very soft) to 12 (very hard). We have not found many oboists who are very fond of grades 1 or 12 cane. The cane is profiled in a long scrape and is ready to tie onto a tube. The tip is a bit longer than necessary. To make a good, playable reed, cut the tip open. Soak the reed, then slowly cut the tip back to bring the pitch up to A-440.
VALUES FOUND IN GRADED, PROFILED OBOE CANE
A good, usable reed almost every time.
Better and more consistent reeds.
A big savings in time in your reed making.
A boon to teachers with a heavy student load.
More time available to play oboe.
Savings in your reed expense budget.
© 1998-2016 Double Reeds. All rights reserved. Last revised:
January 26, 2016
This site was formerly known as Bill Roscoe Double Reeds.