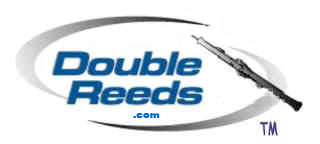 P.O. Box 31001
Albuquerque, NM 87190
Toll Free 24 Hours
1-800-729-7333
Fax: 505-888-1064
OTHER DOUBLE REED BUSINESS SITES

DOUBLE REED SOCIETIES
AND INFORMATION SOURCES
New Music Label Your ticket into the music business. Where Singers, Musicians and Artists meet Record Labels, Music Managers and Scouts. New Music Label is a one-stop solution for seeking, finding and managing all types of Music careers.
Cheryl Wefler Cheryl has recently published the only specifically dedicated(and well received) book devoted entirely to reed adjustment. It is called "PRINCIPLES AND TECHNIQUES OF OBOE REED ADJUSTMENT" 541 517-7488. (See also below)
Brian Moses Brian has one of the most complete lists of double reed resources at this site at the University of Kentucky. On the right hand page click on BDRP Double Reed Suppliers.
BRENDA SHUMAN-POST Oboes of the World
ANOTHER BASSOON INFO SOURCE A fabulous source of information for bassoonists created by Truman Harris who plays bassoon with the Washington National Symphony in Washington D. C.

Amy Hinson Amy is an oboist and middle school band director in Wilmington, NC. Her site is a resource for non-oboe band directors.
The British Double Reed Society
Australian Double Reed Society
DOUBLE REED BUSINESS
Paul Sherman If you live in Erwin or Johnson City, Tennessee, and need computer help, Paul Sherman is the man to see. He is knowledgeable, prompt and his prices are reasonable. Phone 423-218-6670.
Larry Mueller Instrument Repair Larry and his wife, Cynthia have recently moved from San Antonia, Texas to Kingsport, Tennessee. He is an oboist and an instrument repair man specializing in oboe, English Horn and Woodwinds. Visit his website.
Fabrice Rousson Fabrice is a professional oboist and has invented "the cane Guide", a simple and efficient solution to your problems of reed assembly. Click on his name to go to his web site in France.
Fagotriet in the Netherlands For professional handmade bassoon reeds, played by professional players in the main European Orchestra's please look here. Then click on either English or Netherlands.You can listen to Audun Halvorsen play on his bassoon. Marvelous!
The Double Reed Shop Gail Warnaar has a new web site showing THE OLD HOMESTEAD and Double Reed Shop. A wonderful vacation spot and supplier of double reed stuff.
Carlos Coelho Carlos runs an oboe shop in Indianapolis, Indiana. He studied at the Loree factory and sells and repairs Loree instruments. He also speaks many languages.
OBOES. US Peter Hurd buys, sells and repairs oboes and other woodwinds.
Easy Music Pieces for oboe This company in England has some interesting music for beginning oboe students. You can listen to some on their web site.

Jinju Carlson This is a new bassoon reed business website. Check him out.
Boston Double Reed, Inc. Chikao Inomata is a doublereed repairman and sells oboe accessories. He is located on Kelton street in Allston, MA 02134
Ray Pizzi Woodwind Specialist, Concert Performer, Composer, Arranger, Educator. Listen to samples of Ray Pizzi playing "Unique Bassoon and Woodwind Quintet Music." You will need a little time to enjoy this remarkable entertainer.
Summer Reeds Josafat Jaime has a new reed business of hand made, professional quality bassoon reeds. He also has gouged, shaped and profiled bassoon cane.
Bassoon Reeds Janiak Sylwester Daniel Janiak, Bassoonist with the Lower Silesian Opera - Poland. He makes electrical machines to profile bassoon cane.
E-Mail: admin@bassoon.pl
Reedmaker Kerry Willingham retired from the US Army Field Band in Washington, DC and is producing HANDMADE oboe and E. Horn reeds. Kerry now also makes reed wrapping machines like the ones I used to make.
Reed cases by Roger Garrett Professor Roger Garrett is the clarinet instructor at Illinois Wesleyan and is making some interesting double reed cases for oboe and bassoon reeds.
SA ROSAS S.A. Eduardo Macedo has a company in Portugal that produces cork for woodwind and brass instruments.
TrevCo. Music Trevor Cramer is a bassoonist, arranger, publisher and composer. This is an interesting site.
Malarskey Woodwinds Steve Malarsky, an oboist, has 36 years of experience in oboe repair. His site is still under construction but you can get access information.
RBH Bocals Robin Howell makes all needed doublereed bocals in Toronto, Canada. He also sells Christlieb bassoon reed blanks and finished bassoon reeds he makes himself.
Making Oboe Reeds Joseph Shalita has written an interesting and informative book on how to make and adjust oboe reeds.
Crispen's Creations David Crispin plays oboe and makes fine jewelry and many items for double reed players.
Jennifer Ownby Listen to Jennifer play on her web site. Sound is beautiful, intonation is wonderful and technique is awesome.
Bel Canto Reeds Kim and Frank Wangler of Potsdam University have a new business making bassoon reeds.
Ets. Rigotti Franco Rigotti is a major cane supplier in France.
Van Cott Information Services, Inc. Gary Van Cott: Many important double reed books.
Oboe Stuff Robert Lemon has a unique collection of oboe reeds, cane and most every tool and oboist might need.
Johnny Paul's Music Shop Jeanan and Johnny Paul specialize in double reed repairs in the Dallas-Ft. Worth, Texas area.
Herzberg Projects Norman Herzberg has created some beautiful and creative tools for shaping and profiling bassoon cane.
Kirker Bassoon Repair Jim Kirker is an excellent bassoon repairman.
Untch Oboe Reeds Michael Untch has written a book about making oboe reeds. Check it out!
Hannah Brewer Hannah sells new and used oboe and English horns. David Weber preps all instruments she sells.
MKL Reeds Maryn Leister sells hand made oboe reeds for both students and professional oboists.
Woodwind Specialist Lorrie Berkshire Brown, Rep. and authorized technician for T. W. Howarth of London. Repairs and appraisals.

Mathew Peacemen You can listen to Mathew play with a most beautiful sound.

Reeds 'n Stuff Udo Heng, Principal Opera oboist in Annaberg/Germany. Sells tools and supplies and double reed making machines.
Sarl Alliaud Roseaux Alliaud French Oboe and English Horn Tube Cane
Marion Whittow , Oboist, author, cartoonist, UK
CALEFAX A unique, professional, European woodwind quintet. You can download some of their recordings.
Bremer Bassoon reeds Joop Bremer - the newest entry into the small group of professional reed makers. He uses diamond gouging and profiling machines.
Music and Vision An interesting double reed article written by Jennifer Paull
RDG Woodwinds (AKA Gilbert's) 50 years of selling major woodwind instruments and accessories
Puchner Manufacture of Bassoons, Contrabassoons, Oboes, Oboes d'amore, English Horns, Clarinets (German system)
Gonzalez Double Reeds Argentina, Pablo Gonzalez, Oboist and cane grower
Heckel Bassoons Heckle Bassoon Factory
Edmund Nielsen Woodwinds, Inc. , Complete line of tools & supplies
Charles Double Reed Co. Complete line of tools & supplies
McFarland Double Reed Shop New & Used Oboes & E.H., Supplies & Repairs
David Weber Weber Oboe Reeds & reedmaking video
Marsha Taylor Taylor & Associates Double Reeds
Anne Hodge Double Reed Supplies Reeds, cane and supplies
Rigoutat Rigoutat Oboes France
Howarth of London T. W. Howarth & Co., Ltd. Great Briton
OboeWorks Repairs and Sales
Advantage-USA Reeds, tools and supplies
Chartier Reeds Wholesale only Oboe and Bassoon reeds
AMORIS INTERNATIONAL Jennifer Paull Oboe d'Amore
Nora Post Oboes & English Horns
Music Trader Lars Kirmser, Repair Oboe & Bassoon
Linton Woodwinds Jack Linton
BG Franck Bichon s.a.r.l. Straps & Accessories, France
Boosey & Hawkes Buffet & Schreiber
YAMAHA Oboe & Bassoons
Early Double Reed Service Keith E. Loraine, Reeds & tools
Georg Rieger Gmbh Reedmaking machines, tools & cane. Germany
GLOTIN Ezanville, France Reeds and Cane
Mark Chudnow Woodwinds . Loree and MCW Oboes. Complete line of accessories.
Jeanne-Inc Valarie Jeanne Anderson, Oboe shaper tips, gouging machines and accessories of all kinds.
Forrests Music The Double Reed Specialists
Carlos Oboe Carlos E. Coelho
Miller Marketing Co. Justin Miller, Bassoons, cane, tools, etc.
FHRED Support devices for Oboe and English Horn
Covey Oboes Paul Covey, Ginger Ramsay
Wichita Band Instrument Co. Oboes and bassoons
International Music Suppliers Des Plaines, Illinois
---
FAVORITE INTERNET SITES
THAT ARE NOT DIRECTLY RELATED TO COMMERCIAL DOUBLE REEDS
You can search the Internet with Yahoo right here!


MUSIC YELLOW PAGES Yellow pages for the Music Industry

WASHINGTON MUSIC CENTER If they don't have it, you don't need it!

Wichita Band Instrument Service

Cygnet Art prints & t-shirts for double reed musician
---
© 1998-2016 Double Reeds. All rights reserved. Last revised:
January 26, 2016